Esta página describe cómo ejecutar el sitio web de VHV en tu ordenador local en lugar de hacerlo desde las páginas de Github.
Preliminares
Instalación de jekyll
Sige las instrucciones para instalar Jekyll en el sitio web jekyllrb.com/docs/installation y/o https://help.github.com/articles/setting-up-your-github-pages-site-locally-with-jekyll
Instalar git
Para comprobar si tiene git instalado, escriba en la línea de comandos (terminal):
que debería responder con algo como:
Si usas un ordenador MacOS y no tienes git, entonces instala Homebrew. Si usas Windows, entonces buena suerte—aunque Windows 10 ahora viene con un https://msdn.microsoft.com/en-us/commandline/wsl/install_guide que podrías probar. Si no tienes git en un sistema operativo linux/unix, entonces intenta escribir uno de estos:
apt-get 

install 

git-all
yum 

install 

git
dnf 

install 

git-all

Véase https://git-scm.com/book/en/v2/Getting-Started-Installing-Git for more information.
Además, si te gustan los GUIs, entonces lee este enlace sobre https://git-scm.com/downloads/guis.
Descargar el sitio web
Una vez instalado git, puedes descargar el sitio web de documentación de VHV con el comando
git clone https://github.com/humdrum-tools/verovio-humdrum-viewer

Esto descargará el sitio web en el directorio ./verovio-humdrum-viewer.
Ejecutar el sitio web localmente
Go into the verovio-humdrum-viewer directory (wherever you have stored it). Then type:
Esto compilará el sitio web y permitirá a tu navegador acceder al sitio web desde la dirección http://127.0.0.1:2000.
Si el script serve no se ejecuta, lo más probable es que tengas que escribir el comando la primera vez:
Warning: Recientemente el componente nokogiri que debería instalarse con el comando anterior no funciona correctamente, así que prueba a ejecutar también el comando 'gem install nokogiri -v 1.6.8.1 – –use-system-libraries=true –with-xml2-include="$(xcrun –show-sdk-path)"/usr/include/libxml2' si hay algún problema.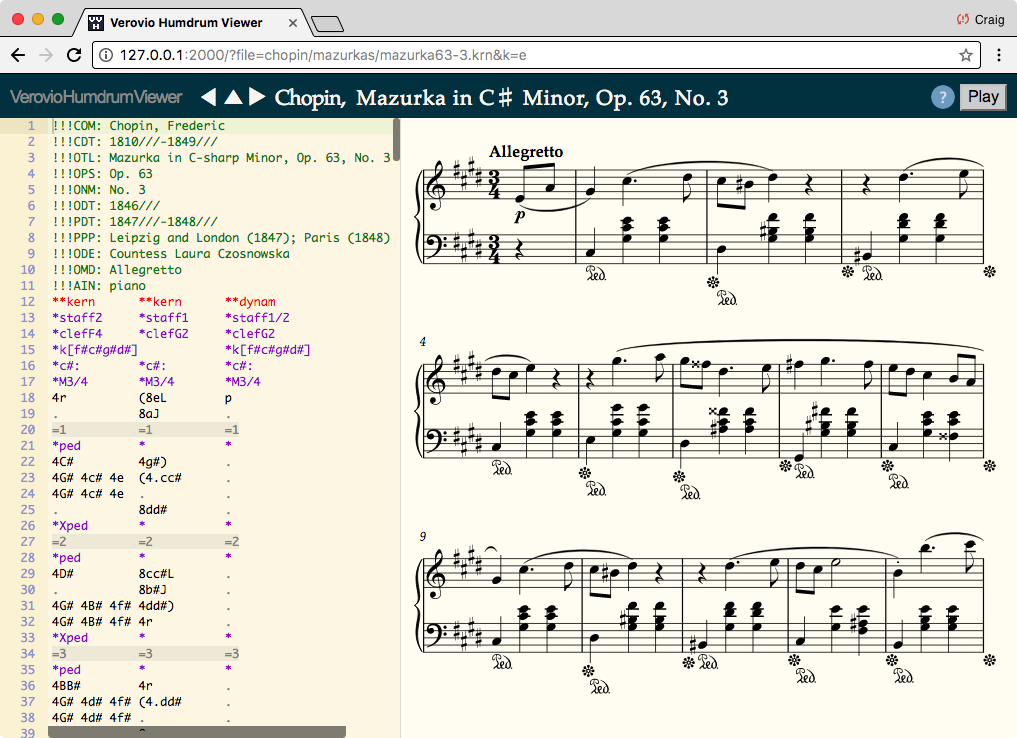 Ejecutar el sitio web fuera de línea
If you are not going to have access to the internet when accessing the website (such as working on a plane), then you can run the website in local-only mode by typing:
Para utilizar este script, primero tendrás que descargar el archivo verovio-script.js entrando en el directorio scripts/local y escribiendo make en el terminal. Esto sólo tiene que hacerse una vez, pero puedes repetir la descarga para asegurarte de que tienes la versión más reciente del archivo verovio-toolkit.js.
Note:
Los repertorios online no están todavía disponibles para una versión completamente offline de VHV. Si necesitas usar alguno de los repertorios en línea, tendrás que descargarlos por separado (como desde
github.com/humdrum-tools/humdrum-data
, y luego
arrastrar y soltar
los archivos en la página local de VHV.